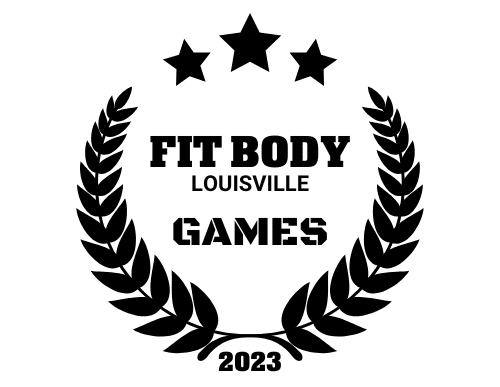 Test your strength and mental toughness in a fun, supportive environment. This is the perfect opportunity for athletes of all levels to come together and compete.
Check out our Fit Body Games Highlight Reel
Fit Body Games is more than just a workout, it's a competition! The GAMES are built on a foundation of teamwork, working through a series of 4 events, in a timed relay format. It's your chance to get outside of the gym, test your endurance, build a team based on strategy and strength AND to accomplish something BIGGER than YOURSELF…. All while raising money for Down Syndrome of Louisville!
All proceeds, sponsorships, & donations to benefit Down Syndrome of Louisville!


Although you will compete in teams of 2 or 4, you need to register individually at the link we provide beginning 6/1, then we will send you a form to complete with your team information. No team? No problem! We will help you find one!
How are the events scored?
A coach will be judging the competitors at each lane for every event to track points as they are accumulated. An official score for each team will be submitted at the end of every event to the scorekeeper. The 1st, 2nd, & 3rd place winners for each division will be determined by the most points scored for all events combined.
Is there an age minimum/ maximum to compete?
If you are already a member at FBBC, you are eligible to compete, which includes anyone 13+.
No childcare will be provided, but children are most definitely welcome.
What does each event consist of?
There will be a series of 4 timed events, each consisting of different exercises/challenges that must be completed within specific parameters in order to accumulate points. Depending on the make-up and choice of the team, some or all of your team members could be competing in each event.
Event 1: Sled Push & Pull – 8 Minute AMRAP
Event 2: Terrible 20s Burpees, Box Squats, & Military Press – 8 Minute AMRAP
Event 3: SkiERG & Slamball Partner Relay – 8 Minute AMRAP
Event 4: Pet Rock Plate Challenge – 8 Minute AMRAP
Yes! Bring all the friends and family members to cheer you on!
Limited time offer. This early bird special ends June 15th.
Our goal is to raise $20,000 for Down Syndrome of Louisville. Donate merchandise, sponsor an event, or give whatever you are able…sponsorships start at only $150!